What It's Like to Be a Transcription Success: Expert Interview with Caren Stewart of Lady of Letters, Inc.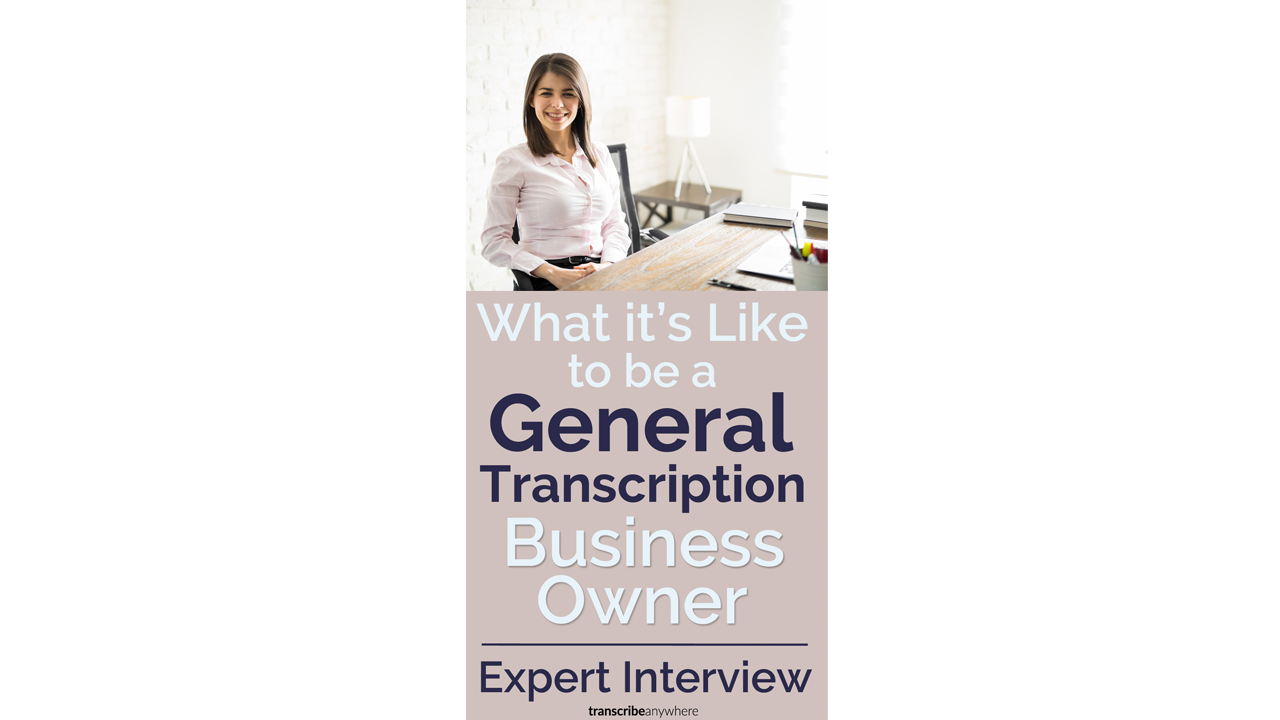 We've got an extra-special transcriptionist as a guest on the blog today -- my very own mentor, Caren Stewart.
Caren is the president of Lady of Letters, Inc., which was one of the first companies I (Janet) subcontracted with when I was first starting out in transcription as a full-time gig.
Caren was a major inspiration to me in starting my own transcription business. Because of her, I realized that there was some major money to be made in taking on a lot of work and working with a team to complete it. Not everyone wants to start a business and grow it big. Working solo as a subcontractor is awesome when you have small children, for example, or if you just want to work part-time as a side hustle. But there are others, like Caren and me, who really want to GO BIG and they should.
In fact, it's 100% possible to make up to six figures a year working with a team of transcriptionists!
I invited Caren to the blog to ask her some questions about her business and thoughts about working as a GT.
What It's Like to Be a Transcription Success Story:
Welcome to the blog, Caren! So what does it take to become a transcriptionist, anyway?
Being a transcriptionist is more than simply listening and typing what you hear. A transcriptionist has to perform several functions all at the same time -- listening carefully, being cognizant of the subject matter and following formatting/styling requests of the client. It can be a lot to juggle!
A transcriptionist has to be proficient in researching terms and names of people or places that may not be familiar. It is also necessary to know and be able to properly use the different formats such as Smart Copy vs. Verbatim, hanging indent vs. two column cells, etc.
A transcriptionist must also be self-motivated, excel in time management and be able to work under the pressure of deadlines.
Last but not least, a transcriptionist has to be computer savvy and able to troubleshoot minor technical problems all the while staying calm -- at least when interacting with the client!
How did you get started as a transcriptionist?
I had a lot of secretarial training and experience in my corporate career. After 20 years of answering to other bosses, I decided I wanted to work from home and be my own boss. The savings in gas, clothing and commute time were also very attractive to me. So, I thought why not try being a virtual assistant? I already had the skills necessary, so it seemed like an ideal solution.
However, 90% of requests from clients were for transcription, so I decided to specialize in that arena. I started out as a freelance transcriptionist, but I soon realized the limitations of having to do all the work myself. So I started to gather a team of transcriptionists together and became a sort of broker of jobs, for lack of a better term, and that is how Lady of Letters evolved!
What kind of money can be made as a transcriptionist?
It really depends on whether or not you want to work for others or have others working for you, as well as what type of transcription services you wish to offer.
In my case, some of the transcriptionists on my team make $1,000 or more a month just via work from my company, but it really depends on how much work you want to take on, how many hours you want to put in and, most importantly, how much work is available. Plenty of work is available if you know where to find it, but if you depend on someone else to hand you work, it can limit your income.
An individual freelance transcriptionist is only able to work so many hours a day. But if you have a team working for you, then your earning potential is greatly increased. There are pros and cons to being a business owner and the responsibilities are quite different, but the earning potential is far greater when you have a team.
Can anyone become a transcriptionist?
I don't believe so. Transcription, just like any other profession, is not for everyone. Not everyone has the necessary attributes and skills. In my opinion, you must have those qualities in order to be a successful transcriptionist.
I think that's why so many people try to jump into transcription but get frustrated quickly with their lack of transcription success and then just quit -- they didn't train or practice at all. Someone probably told them they didn't need experience or duped them into believing it was an easy way to make money. It's not.
You mentioned training. Why do you need training to do transcription?
Training is extremely valuable in order to avoid the pitfalls of ignorance in this field. There are a lot of tips and tricks that training can provide which saves time, but what people don't realize is that training can also save you lots of money as well -- in addition to being able to start earning more money faster. The added benefit of training is that it looks great on your resume, website, marketing materials, etc. It gives clients the added reassurance that you are a professional and that they can trust you with their project.
Is it hard to find work?
Hard is a relative term.
First and foremost, figuring out which transcription services you will offer and who your target audience is are crucial before you start any marketing campaign. There are several types of transcription services to offer. Some examples are phone-in dictation, general, production typing (used by film and production companies mostly), legal and medical.
Any successful marketing plan takes commitment, perseverance and time. There are a lot of free ways to market, but there are also a lot of marketing "programs" out there that promise a lot, cost a lot and rarely deliver. Be careful where you invest your marketing time and money. Joining networking groups can be hit or miss depending on who your target audience is. But, the most important rule of marketing is to be consistent and persistent.
Just remember -- all the marketing in the world won't help you one bit if you're not trained, competent, and able to provide excellent service.
Another key marketing tool is referrals. Always ask for referrals in ALL of your emails with prospective, new and past clients. An easy way to do this is to have it be automatically incorporated in all of your business emails. Be sure to ask for recommendations (different from referrals) from clients once their projects are completed and incorporate those into your marketing campaign too.
A website can be a good way to market as well. The cost of that varies greatly depending on how many bells and whistles are needed. Best practice is to go inexpensive at first and upgrade as your business grows.
What specific steps does a person need to take in order to make this a successful work-at-home career?
I would say to first ask yourself if you are a self-motivated person with good time management skills. If not, working at home is probably not a good fit.
But if the answer is yes, then the next step is to make sure you have a quiet environment to work in. Distractions make for mistakes. So, if at all possible, have a separate room to work in that has a door you can close. Be sure to let other household members know that when that door is closed, you're working and should not be disturbed.
Having the proper equipment is critical as well. That includes, but is not limited to, a desk, computer, headset, foot pedal, fairly high-speed internet, email and phone.
By far the most vital piece of equipment is an excellent quality chair. You will be spending several hours a day in that chair. So be sure to get one that will provide proper support and is comfortable enough to sit in for up to two hours at a time. A great chair can make the difference between loving what you do and hating it!
Aside from training, what are the startup costs for a transcriptionist and how much on a monthly basis to maintain it?
There is really no way to know that because every situation is different. Some things people will already have and some things they will need to purchase. For that reason, it is impossible to quote an amount.
As far as monthly maintenance costs, that varies greatly too. Some software programs have monthly service fees and others are free. Computer maintenance costs are also not the same everywhere and can be done either monthly, quarterly, semi-annually, etc., depending on personal preference. There could also be association/networking dues and other expenses that may or may not apply to everyone's situation.
What do you love about being a transcriptionist? What has it helped you do with your life?
The main thing I love about my business is the wide variety of subject matter that my team and I get to work on. We have had transcription projects where the subject matter ranges from the newest food product in the market, to head hunters in New Guinea, to the latest technological advancements, to educational system breakthroughs, to the sex slave traffic industry and everything in-between.
My transcription services business has allowed for more 'me' time and the freedom from the 9:00 to 5:00 of corporate America that I was used to for over 20 years. It gave my husband and I more time together and I could basically take breaks from work when I needed them which allowed for a better work/life balance.
Are there any other tips that you have for someone who wants to get into transcription?
First off, the level of customer care you give your clients is really the only thing separating you from other transcriptionists or transcription services out there because there will always be cheaper services and more expensive services, but nothing beats excellent customer care. So be sure to take time to get set up and be organized before accepting your first client. This will save you untold amounts of frustration and virtually eliminate the possibility of having a bad client experience.
Secondly, ALWAYS require a deposit for brand-new clients (I require 50%) before starting any project, no matter how small it is. You want to reduce your risk of loss to a minimum. No client that I had the pleasure to do business with ever had any issues with this requirement.
Last, but not least, be sure to take LOTS of breaks. This is vital to both your physical and mental well being. It also greatly reduces the chance of mistakes!
Thank you so much for being you and for being a guest on my blog, Caren!
Your Turn!
Do you have questions for Caren? Leave a comment below! What are your thoughts on becoming a transcription success story?
EXPLORE A CAREER IN TRANSCRIPTION WITH OUR

FREE WORKSHOP
ENROLL NOW